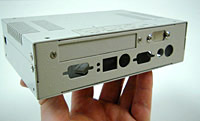 Advantech's MBPC-200 3.5" Biscuit PC chassis line has added the new PCM-5822 half-size Biscuit SBC as one of its board options. The PCM-5822 brings with it a powerful TV-out function as well as a new switching power regulator and low-power GXmLV-200/2.2 V processor. For ease of use and convenience, all cables connect directly to the front panel. AV as well as S-Video connectors are also both provided on the front panel to accomodate all your TV-output needs. This board gives system integrators more ways to implement the MBPC-200 chassis into their system solutions.

PCM-5822: A Full featured 586-level SBC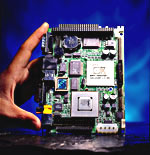 Besides the before mentioned power savings and TV-out capability, the PCM-5822 has many attractive standard features such as 10/100Base-T Ethernet and Audio. All these features allow the MBPC-200 to capitalize on the PCM-5822's ability to be used in various mobile and automotive computing applications. Read the PCM-5822 newsletter here or go here for more complete information on this entire SBC product line.

Availability

The MBPC-200 Series 3.5" PC chassis and power supply is ready to handle your unique system requirements. With the PCM-5822 PC board added to this chassis line, even more capabilities are available. Visit the Advantech web site at http://www.advantech.com/epc for more information on the MBPC-200 Series, the PCM-5822, or any other products we offer. Or contact your local Advantech representative to find out more.